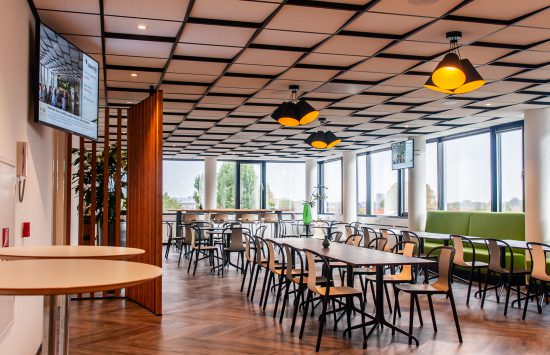 5 benefits of using digital signage as part of your internal communication
Using digital signage in your offices or production facilities can be a very efficient way of reaching your employees.
Having a solid plan for how you communicate with your employees, no matter the size of your company, is important. After all they are the key to your business success. The nature of your business will dictate what channels you use to share information, but in many cases digital signage can be a very important channel to share updates and information.
Good internal communications can drive higher employee productivity
Use your digital signage screens to share information about your company, make a dashboard with sales updates or just highlight an employee that have excelled the last month. Studies show that good internal communications drive 25 percent higher employee productivity.
Use digital signage to drive traffic to your intranet
Digital signage is often very visible in an office space or other facilities where your employees spend time. It is hard not to notice messages, images or videos shown on these screens and you can use them to direct staff to your internal site.
Digital signage is very effective
Studies show that using digital signage is effective in a range of different industries, from restaurants, retail, hotels to corporate communications. Digital signage can have a recall rate of up to 83 percent. If the screens are positioned where your staff get their coffee, have their lunch break or in areas they have to pass coming in to work they are very likely to recall the information you are sharing.
Get a 30 day free trial of LoopSign and start communicating today.
Build your brand internally
Use digital signage to showcase and build your brand internally to make sure all staff are in line with your core values and brand identity. Share success stories, goals achieved, use your brand and brand colors and keep employees in the loop if you are developing a new product for example.
Use it to share important information
Messages can easily be "lost" in your employee's inbox, on Slack or in Teams or even on your intranet. If you have important information you want everybody to see, digital signage is a very effective way of getting it out there. That is especially true if you have staff that are not working in an office in front of a computer.
LoopSign is digital signage made easy. Read more here and sign up for our 30 day free trial.