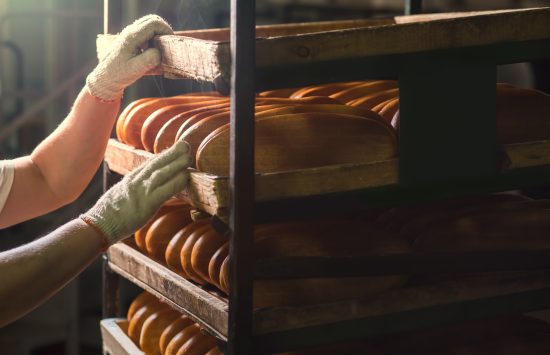 Fresh bread and fresh information
The Dutch bakery Bakker Wiltink uses screens to inform their employees in their production facilities. Digital signage is shown to be an effective way of sharing information, especially to staff that don't have access to a computer during their workday.
Bakker Wiltink, a family owned business, has a production facility in Doetinchem in the eastern part of the Netherlands. Since 1952 they have produced bread and now have 140 employees. Production is active seven days a week with five production lines to be able to supply their customers every day. Fresh bread and rolls, and some specialties, are delivered to stores across the Netherlands and they also export some to other countries.
For two years they've had screens running with LoopSign after a recommendation from their ICT support company. The screens update the staff about production changes, new investments, if they have changes in assortment or if they've reached some achievements.
– We have four screens operating in our production facility. I am primarily in charge of updating the information and I find it easy to use, compared to our previous solution with updating via a Power Point presentation. I update the information at least weekly and more frequently if there are any issues or news we need to share, says Louis van Bentum, Operational Manager at Bakker Wiltink.
Make sure staff is informed
Studies show that digital signage is a very effective way of sharing information with your employees. Especially if you have staff that work in production or otherwise don't have access to a computer during their workday. Good internal communication can even drive 25 percent higher employee productivity. LoopSign lets you create, edit and administrate all of your digital signs from a cloud based and user friendly interface.
– LoopSign is a stable and easy to use tool. Compared to using PowerPoint to update the screens I use less time updating with LoopSign and I would definitely recommend it to other users. It's a good product, says van Bentum.
Read more about LoopSign or sign up for a 30 day free trial.