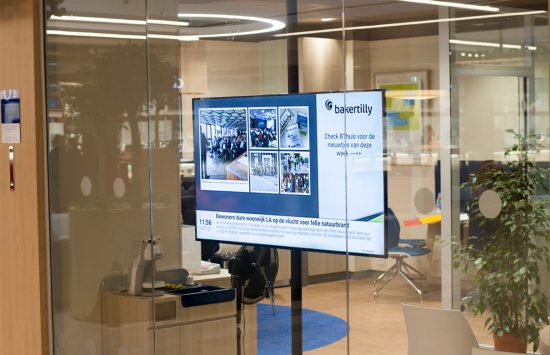 The most user friendly digital signage solution
The solution for digital signage that suits everyone in your company.
Creating digital signage for your company shouldn't be a time consuming activity. LoopSign is a web-based software tool that helps you create, design and administrate your company's digital signs. The intuitive and easy-to-use interface makes LoopSign an ideal solution as it's compatible with everyone – no matter your technical skills or how much time you have at your hands.
Why don't you see for yourself, with a 30-day free trial?
User friendly widgets
LoopSign is the solution that's easy to understand and easy to use due to the simplified user interface where you create, design and administrate your screens. With the different widgets available in LoopSign, creating stunning digital signs couldn't be any easier or quicker. The widgets include:
Time and date with custom time zones
YouTube and MP4-videos
Text
Pictures from gallery
PDFs
MSOffice Documents
HTML
Weather forecast
Calendar synced with O365, Exchange, Google and Ical
Facebook, Twitter and Instagram RSS
– The intuitive drag and drop function make it easy to create custom digital signs in your preferred browser. It's as simple as dragging and dropping the widget you want to use anywhere on the display, and rescaling it to your preferred size, says Finn Arne Eikenæs in Loop24.
It's easy to get started
Getting started with LoopSign is easy. As the solution is cloud-based, there's no downloads or physical parts to be bought. Just visit this site from your computer, tablet or phone, sign up for a 30 days free trial and start designing your digital signs.
– Combining how fast it is to get started with LoopSign with a 30 days free trial lowers the bar for how easy, functional and affordable digital signage solutions should be, says Eikenæs.
– The unique thing about LoopSign is the fact that everyone can use it. The user interface is created in a way so that everything is understandable. It doesn't require knowledge within IT or computers, and everyone can create stunning digital signs for their company. It doesn't matter if you work at the reception or as a graphic designer.
Go live instantly
After you're done designing your digital sign in the LoopSign web-tool, it's easy to move it to one of your company's displays. By adding the screen's unique URL in the browser of your signage display, your screen is live and will be shown instantly. Changes made in the LoopSign web-tool will automatically update your signage screen.
Sounds easy, right? Sign up for a 30 day free trial of LoopSign today and start creating your digital signs!